Bench
Polygon
Obtained from a single block of Fossil Oak. On both sides polygonal shapes with a triangular base have been carved with a particular geometric rhythm, tighter in the center and gradually tapering with increasing angularity towards the end.
Precious Carrara marble inserts finish this unique piece, marrying perfectly with the Fossil Oak, which has been preserved intact for thousands of years in the ground that has protected it.
Design: LUCA DEGANO
Size:
L330 x P42 x H47 cm
Fossil Oak Bench
This is a unique piece that exhibits an exemplary design. The contrast between the modern carvings, which suggest contemporaneity, and the millenary nature of the wood base stimulate the arousal of incredible emotions.
The cracks and grooves created by the passing of time form unique designs and shapes that invite us to caress them. They moreover inspire us to use our imagination to travel back through time.
Bench
KORMÓS
Bench made from a single trunk of fossil oak. The two sides maintain the original shape of the plant, highlighting the corrosion due to the soil that has preserved the wood for thousands of years. We do not use any product to change the color of the wood: we have left this task to the passage of time! The mirror-polished steel base blends with the floor and gives a light effect to the bench.
Design: LUCA DEGANO
Measures:
various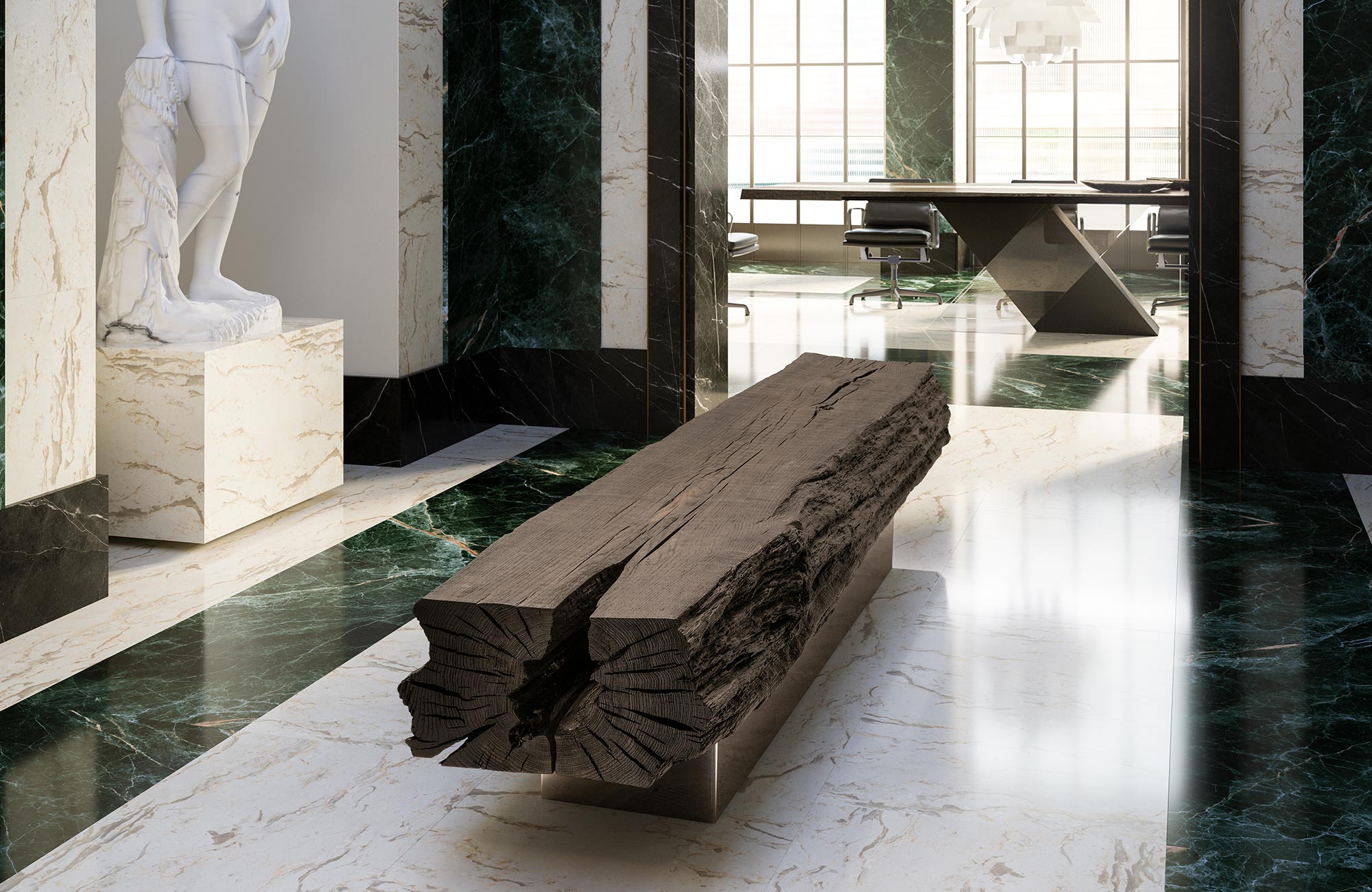 Bench in fossil Oak and stainless steel
Kormós always presents infinite variations as the naturalness of the original edges of the trunks create always different textures and profile designs. The contrast between the steel base and the millenary texture of the trunk expresses a unique contemporaneity and gives incredible emotions to the sight and touch.
Contact us for more information